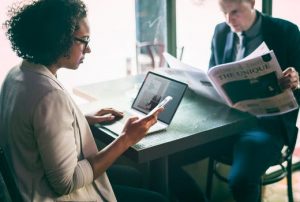 Do you understand the impact of digital technology in your business?
Digital is set to explode but what is it and why should you be doing it. For some executives, it's about technology. For others, digital is a new way of engaging with customers. And for others still, it represents an entirely new way of doing business.
The right digitalisation will help you keep pace with your customers as it transforms the way they research and consider products and services, interact, and make purchases on the digital consumer decision journey.
Below we outline our key findings of why you should choose to implement the technological advancements and adopt digital into your operation.
Here are some reasons why you should learn the best and worst practices when you embrace digital in 2019: 
• Digital is the core of your business.
Digital is not just the IT departments' responsibility. When your whole organisation embraces digital and makes it the heart of the establishment, you will begin to see lower costs, higher yield and outstanding customer satisfaction.
• Adopt digital early and gain a competitive advantage and higher profits.
Digitally established businesses are gaining an advantage on their competitors and experiencing 35% higher revenue growth.
• Established businesses adopting digital are on top because they are vigilant with implementing the changes for digital.
In the last three years nearly 30% of companies have seen their top two competitors change, and that number will rise in 2019.
• Digital highlights business processes that need to be changed.
Digital enables senior decision-makers to improve and make changes. Business processes and communication can then be aligned better with human wants and needs.
Here are some simple steps that can be applied:
• Calculate – Do the maths.
You will be behind your competitors if you're not making the right digital investments, growing revenue via digital versus traditional channels, and using new technology to improve productivity across your organisation.
• Find your feet.
Assess your performance. How are you performing compared to your competitors? Are you getting enough revenue via digital? Are you optimising costs in your IT function? What's the economic impact of your clients' experiences with you?
• Baby steps.
New technology will constantly reshape your processes. Your move to digital will not happen overnight, so you have time to plan and choose what, how and when you will implement each process.
• Quit waiting and stop saying "I'll do it next week".
Enterprises that display a sense of urgency and persevere with challenges and changes with digital are seeing higher revenue growth.
We empower business with technology. If you are looking to partner with a digital-savvy IT company to lead, grow and succeed then why wait. We offer a wide range of services including cloud and on-premise solutions. Find out more about what we do HERE