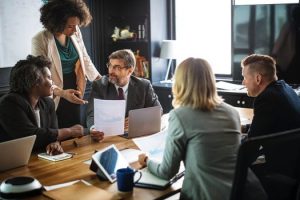 Improve Employee Engagement with Technology
Companies are using technology-based platforms to boost the sharing of information and creative thinking.  
Technology within the workplace continues to allow businesses to improve communication with employees. The ability to engage with each other quickly will help your business to get ahead of your competitors. 
Most business owners now rely on technology to be able to engage with their employees, both in and out of the office. Collaboration between technology, management and employees will maintain a better work-life balance. 
Tools such as virtual technology, social networking, and online portals make employee engagement limitless and help to expand your business more efficiently and quickly.  
The expansion of business technology is also important because it elevates communication by allowing information to be exchanged using multiple channels instantaneously, therefore making businesses more agile and efficient. 
Below are four different ways that you can increase employee engagement and integrate technology into your business: 
Performance Management Tools 
Performance management tools are also extremely useful for improving communication within the workplace. Managers can set goals and use online tools to review employee performance, and employees can work more efficiently by communicating directly with the management team to restructure and complete tasks successfully.  
Technology and online tools enable Human Resources to allow employees to perform tasks and respond quickly, such as updating their employee information, applying for jobs in different departments and reviewing & responding to job evaluations. 
Collaboration Between Departments 
With virtual working on the rise the use of in-house networking and intranet services mean employees can stay connected, collaborate effectively and share files simultaneously. 
Communication between all departments in the company can help to make your business successful. Collaboration between departments allows employees to differentiate between budgets, goals and project management timelines. 
Train and Educate Employees 
An essential part of staying competitive is training and developing employees. Inhouse learning tools allow your employees to maintain a flexible schedule. Ideally employees will use e-learning tools or virtual classrooms in addition to in-person sessions.  
Employees can take advantage of new learning styles such as E-learning tools. This can increase enthusiasm and engagement and allow flexible learning for workers to train at their own pace.  
Social Media Engagement  
Social media can strengthen your relationship with your employees.  
The opportunity to engage socially with your employees is a great way for creating brand awareness. Employees can actively help promote your business by posting information, sharing ideas, services and updates about the company.  
Social media can help you reach potential new clients, obtain on-line reviews and engage with customers. 
Digital Exchange empower business' with technology. If you're looking to partner with a digital-savvy IT company to lead, grow and succeed, why wait!  
We offer a wide range of services including cloud and on-premise solutions. Find out more about what we do HERE