We're in the middle of a digital revolution. Across the UK, the rise of new technologies and cloud services are radically transforming the way we live and work. Government, businesses and citizens are increasingly aware of the importance of digital infrastructure. Our digital connectivity is either a barrier to growth and innovation or a catalyst for economic and social development.
Through the design and deployment of future-proof, full fibre infrastructure, we help bring the benefits of Gigabit speed connectivity to entire communities.
Every Gigabit City provides local business, government, health and education sectors with state-of-the-art digital infrastructure, capable of meeting their data connectivity and communication needs for decades to come. The applications of ultra-fast connectivity are numerous, and will only grow as we continue to embed technology in our day-to-day lives.
South Yorkshire is one of the most recent additions, with Sheffield, Rotherham and Doncaster becoming Gigabit Cities.
Businesses in Sheffield City Region are now able to exploit the advantages of gigabit speed internet services via the CityFibre network.
This new breed of full-fibre connectivity will improve business productivity and provide a significant competitive advantage.
Watch this mini film to learn more, and to chat to a member of the team about your requirements call us on 0114 220 3000 or for fast & accurate pricing click HERE.
What is a Gigabit City?
A Gigabit City provides its businesses with access to future-proof, full fibre connectivity products and solutions. Affordable next-generation, gigabit speed services transform the digital capabilities of small and medium sized businesses while uncontended access provides the world-class connectivity that enterprises expects.
As access to bandwidth becomes ever more essential, a Gigabit City becomes the perfect location to establish and grow your business, sparking inward investment and driving economic development.
Transforming the UK's Digital Infrastructure
CityFibre is the UK's leading alternative full fibre network infrastructure owner. With major fibre infrastructure projects across 51 towns and cities throughout the UK, they provide the backbone to the Gigabit Cities initiative.
Network Coverage
The purpose-built, full fibre and duct network is independent from all other infrastructure providers, making it ideal for those seeking resilience or a fresh, agile alternative to existing suppliers.
From top to bottom, check out the UK network footprint…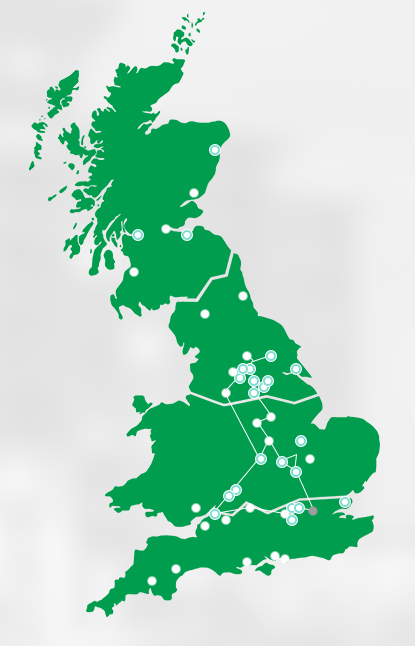 To chat to a member of the team about your requirements call us on 0114 220 3000 or for fast & accurate pricing click HERE.