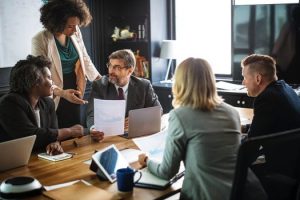 Improve Employee Engagement with Technology
Companies are using technology-based platforms to boost the sharing of information and creative thinking.  
Technology within the workplace continues to allow businesses to improve communication with employees. The ability to engage with each other quickly will help your business to get ahead of your competitors. 
Most business owners now rely on technology to be able to engage with their employees, both in and out of the office. Collaboration between technology, management and employees will maintain a better work-life balance. 
Tools such as virtual technology, social networking, and online portals make employee engagement limitless and help to expand your business more efficiently and quickly.  
The expansion of business technology is also important because it elevates communication by allowing information to be exchanged using multiple channels instantaneously, therefore making businesses more agile and efficient. 
Below are four different ways that you can increase employee engagement and integrate technology into your business: